Jon took me to
Wurstküche
a couple days ago, a sausage and belgian fries purveyor in downtown LA. They had three vegetarian/vegan options: Vegetarian Italian - fennel, garlic, red peppers and eggplant, Vegetarian Smoked Apple Sage - apples, yukon gold potatoes and rubbed sage, Vegetarian Mexican Chipotle - chipotle, chille di arbol peppers, garlic and onion. Jon went with the Smoked Apple sausage and I got the Mexican Chipotle sausage with caramelized onions. Their twice dipped belgian fries are really what sealed the deal, as well as their dipping sauces! I got the Sundried Tomato Mayo and Chipotle Aioli.... possibly some of the best fries I have had to date.
Cute menu, fun atmosphere and awesome architecture and design/setup. I fully approve this place if you are ever in downtown LA.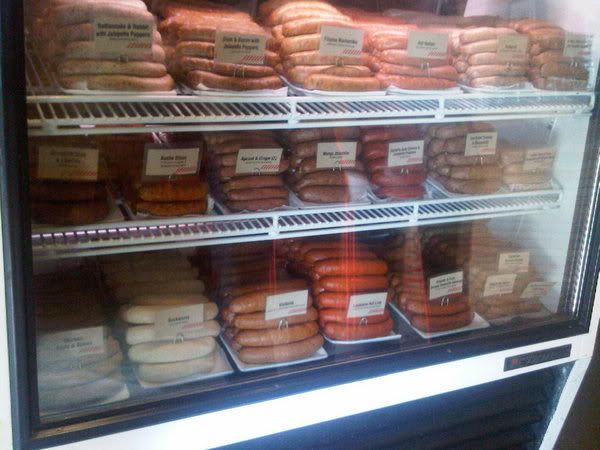 Afterward we went to Scoops, a small place to get gelato just off of Melrose. I have to say, my entire life I have never been a fan of chocolate, especially by itself, but we got a scoop of the salty chocolate and I finally understand why women go crazy for chocolate! This was probably the best gelato AND chocolate...anything...that I have ever had! Another definite recommendation.
Location: 800 East 3rd Street Los Angeles, California 90013